Celebrity

Engagement Rings

:

The Diamond Supplier Blog
Anne Hathaway, Britney Spears and Julie Benz Dazzle in

Bridal Diamonds

and

Engagement Ring

Delight
Anne Hathaway's breath-taking engagement ring was co-designed by actor and successful jewelry designer fiance, Adam Shulman, with help from the diamond and fine jewelry experts at Kwiat Designs.
The November proposal was made with an instantly infamous six carat platinum and Diamond Ring, featured above, which has been recently suggested by jewelry expert Michael O'Conner to be valued at over $150,000.
The bridal jewelry specialists at Kwiat are also the same diamond jewelry masterminds that co-custom designed the engagement ring worn by Julie Benz of Dexter. Celebrity boyfriend of four years, Rich Orosco worked with Kwiat to design the engagement ring he wanted for her.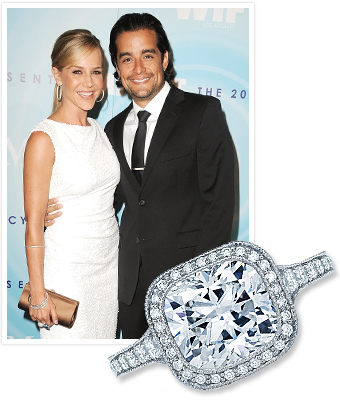 Orosco worked closely with jeweler Greg Kwiat to design the note-worthy elegant engagement ring of Julie Benz. The ring features a milgrain edge with engraving, signature Kwiat 'floating basket' pave diamond frame and a cushion-cut diamond center stone.
Taking such an active role in the preparation and final appearance of your future wife's engagement ring design might not be a bad piece of advice to give a hopeful groom, helping to secure a yes when the question is asked. Who would say no to such a romantic gesture?
Shulman is not the first of celebrity hopeful husbands who chose to play a central role in the design of their engagement ring. In 2009, country singer Carrie Underwood said 'Yes' to hockey player Mike Fisher's proposal, whose engagement ring had been co-designed with Underwood's favorite designer, Johnathon Arndt.
The resulting custom design engagement ring was a miraculously elegant fancy colored yellow-and-white diamond design (flawless yellow diamond, that is), composed of about 12 carats and estimated to be worth $80,000.
—————————————————————————————
Anne Hathaway's $150,000 6-carat

Engagement Ring
Credit: D Dipasupil/Getty Images; Stephen Lovekin/Getty Images
—————————————————————————————
Britney Spears Engaged to Jason Trawick, Sporting a Spectacular Princess Cut Ring
Britney Spears has been in a romantic relationship with former Agent, Jason Trawick since 2009. The celebrity couple has confirmed the rumored engagement just recently, with PEOPLE Magazine. The symbol of this engagement is receiving an abundance of media attention and public admiration.
Britney's engagement ring is an exclusive princess cut diamond ring designed by celebrity jewelry designer, Neil Lane. Following the fiance trend of co-custom jewelry designing, Jason had a very specific, and very sweet ideal image of what he wanted the final design to reflect. As he discussed with Neil Lane during the design and manufacturing of the engagement ring.
Trawick didn't want a loud, large center stone to be the impressive aspect of this symbolic ring. Rather, he wanted the ring to be magnificent in detail, an intricately designed princess cut diamond ring, perfectly accented with surrounding diamonds and feminine detailing.
The soon-to-be-wed Spears now wears an engagement ring which is absolutely stunning, while maintaining a subtle royalty that suits her happy and bubbly personality. The center stone is a perfect, round white diamond, highlighted by 90 specifically placed small diamonds in a handmade platinum setting and eternity band, appearing together as a 'mini-crown' Neil Lane described to PEOPLE Magazine.
Image Courtesy of: Getty Images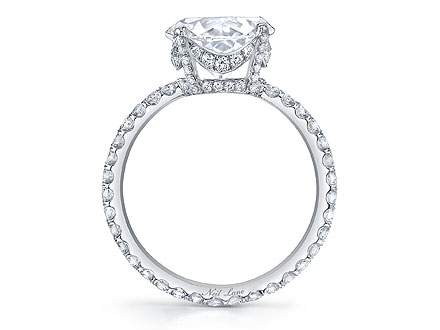 Courtesy: Neil Lane
To all of the recently engaged celebrity couples, we wish you the very best!!!
The Diamond Supplier
The Diamond supplier on Facebook
The Diamond Supplier on Twitter